Roundstone Buskers -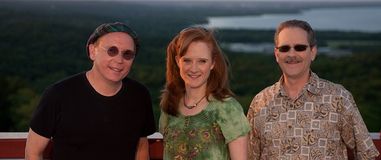 Roundstone Buskers are Tom Jones, Bruce Burton and Shannan Sullivan.  Originally formed in 2001, and named after Roundstone, Ireland, the hometown of the great bodhran maker Malachy Kearns, the "Buskers" consisted of Shannan Sullivan (fiddle), Tom Jones (bodhran/percussion/whistles) & Tom Grafton (guitar/ hammer dulcimer). The original trio played through 2003, released a successful self-titled CD and eventually disbanded yet remained good friends.

Later that year, Shannan and guitarist/multi-instrumentalist Bruce Burton started a duo simply named SullivanBurton. They played through 2007 and released the CD, "Monkey Bars" which won praise from Dirty Linen magazine.  In 2007, Tom Jones joined Bruce and Shannan and the three restarted the Roundstone Buskers.

"The Buskers" have not looked back since regaining their name becoming somewhat of an acoustic power trio claiming traditional and contemporary celtic as part of their sound. They have been called "cheeky", "punxy" and "on point" and they are fine with that.

They all sing, they all play, but most importantly.....they all listen.